So I've already talked about how much the Kim Possible cartoon artworks looks like that in Penny Arcade. Coincidence? Maybe. However, there are other signs that this show is really lacking originality.
For example – compare one of the archvillains from the show, Gill…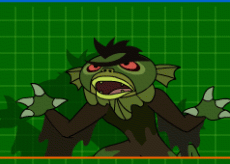 …to Mer-Man from Masters of the Universe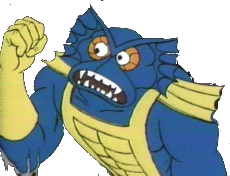 Ok, ok, so the TV version of Mer-Man might not look so so similar. But check out the action-figure.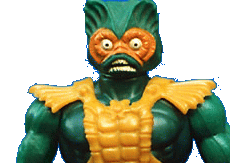 Gill, to me, really looks like an amalgam of the two Mer-Man incarnations. and it leads me to wonder… do the creators of Kim Possible have a single creative bone in their collective bodies?
Don't get me wrong – I don't have anything against the show. I've really hardly even seen it. It's just that I can't help but suspect it's another recycled, reconstituted media soup.