Yahoo brings us the following photo caption:

Musician Sir Paul McCartney throws a football to the press during a news availability at the Media Center in Jacksonville, Fla., Thursday Feb. 3, 2005. McCartney will perform during the half-time show at Super Bowl XXXIX on Sunday, Feb. 6, between the Philadelphia Eagles and New England Patriots. (AP Photo/Amy Sancetta)
This subtitle is only amusing in light of the photo: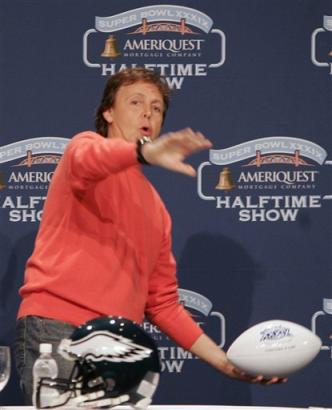 Looks pretty obvious that Sir Paul is more used to footy than American football.
In other, related news, I am sorely going to miss watching Redskin games. :(. I was gonna get DirecTV, and thus be able to get the NFL season ticket, but taking into account other variables, Dish Network was the better choice for us. I'm sure I'll find a 'Skins fan bar down here, anyway, and probably end up paying less overall for beer than I would for the NFL season ticket on DirecTV.